SoftUni is one of the biggest and most respected providers of non-formal education in South-Eastern Europe. The company was founded in 2013 to provide accessible, high-quality, and up-to-date programming training in Bulgaria. Shortly after, SoftUni became a market leader and started offering courses in Design and Digital Marketing as well. In 9 years we have helped thousands of students get a profession and start a job.
SoftUni also helps companies with strategic business cooperation, franchise opportunities, intensive corporate training, and comprehensive educational materials. Our partnering network consists of 100+ local and international corporations, many of which use our B2B services daily.
Innovative methodology and curriculum
SoftUni's biggest competitive advantage is its innovative educational programs. The scheduled on-site or online instructor-led group training allows students to easily combine learning with other commitments like work or school. 
The comprehensive learning approach focuses on integrating theoretical knowledge with real-life exercises and projects. All curriculums are developed by industry experts and structured into open courses, modules, and professional programs with a gradually increasing difficulty.
The educational materials and assignments are being constantly revised to include best practices and the latest software technologies. This gives students the necessary skills to obtain a job in their chosen profession.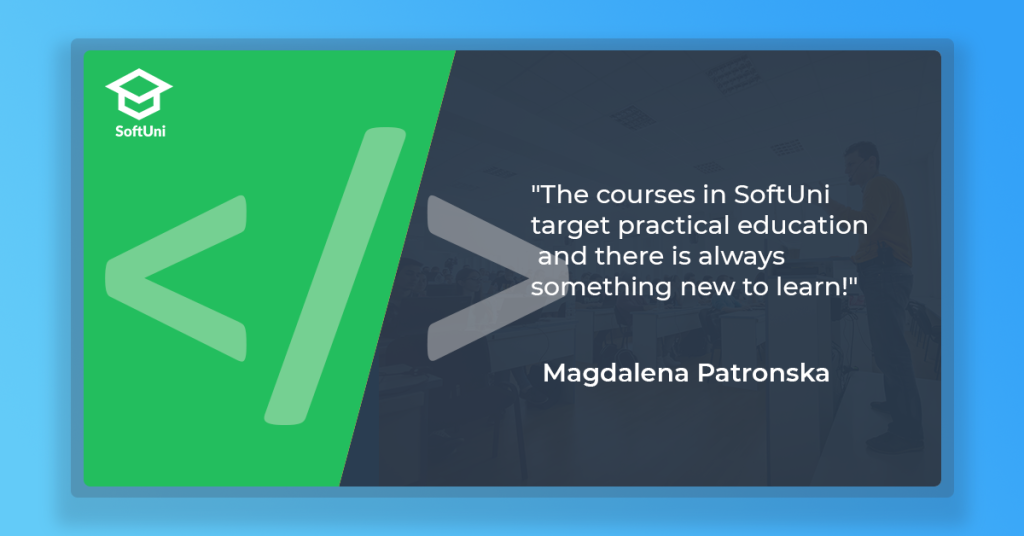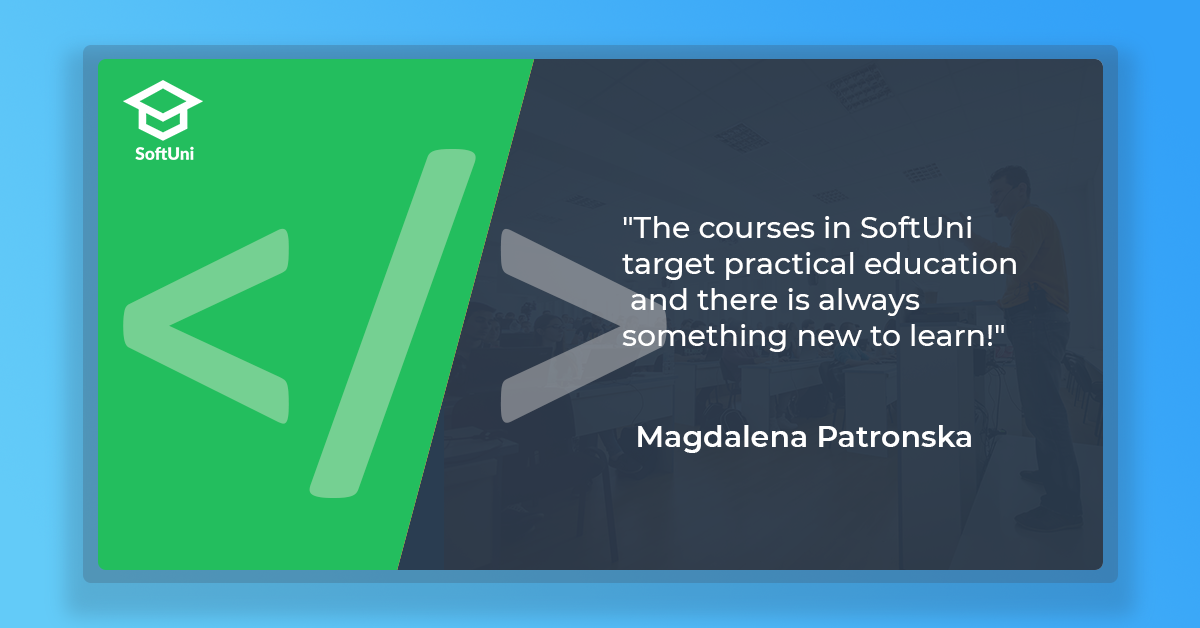 To better help both individuals and businesses, SoftUni has been building close relationships with leading local and international companies in the tech, digital marketing, and graphic design industries from its start. Their constructive feedback and market insights help in revising and expanding the existing curriculums. As a result, SoftUni's graduates find it easier to get internships and job opportunities in comparison to traditional university alumni. On the other hand, the local industries benefit from qualified professionals matching the skill set companies are looking for. This in turn boosts the national economy and especially the IT ecosystem with its ever-growing demand for competent developers and software engineers.
Software University – an innovative educational center that trains students in Information Technologies, Programming, and Quality Testing in Bulgarian and helps jump-start their careers;
SoftUni Digital –  first of its kind in Bulgaria, the center offers complete professional programs and open courses for digital marketing specialists;
SoftUni Creative – first-of-its-kind academy for Design, Creativity, and Visualization for graphic and interior designers and digital artists, in Bulgarian;
SoftUni Kids – courses in Programming, Electronics and Robotics, Animation, and Graphic Design in Bulgarian for children between 5 and 12 years old following the learning-through-practice model and constant teamwork;
"SoftUni Light" High School – the first private high school for IT and digital skills in Bulgaria that trains students in Programming, Entrepreneurship, Graphic Design, Digital Marketing, and E-commerce alongside all the state-required subjects;
SoftUni Foundation –a non-profit organization that develops and distributes free learning materials in Bulgarian for individuals and high school teachers to further support modern tech and digital education;
SoftUni Global – the international branch of SoftUni that offers business solutions and individual self-paced software developer programs, in English.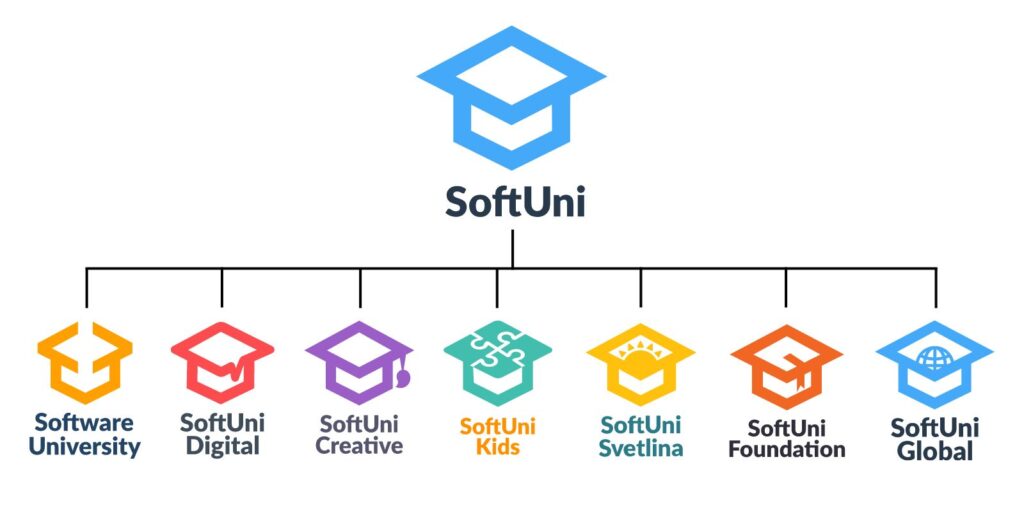 SoftUni's mission is to create true experts and future leaders by providing practical, quality, and affordable education in digital and information technologies. Since establishing the company, we have been working towards a specific dream – to make Bulgaria the Silicon Valley of Europe.
In the last 9 years we have:
Built and managed an engaged educational

community of 300 000+

former and current students;

Established and developed partnerships with 100+ leading local and international companies;
Conducted 2 000+ trainings and 1 500+ seminars and events;
Had 23 000+ video lessons with an overall duration of 70 000+ hours;
Reached a success rate of 97% of programming graduates starting a job in tech.
SoftUni Business Solutions
Our efforts to contribute to the global digital revolution extend beyond helping individuals realize their professional dreams with quality education. SoftUni supports business development through franchise opportunities and talent acquisition and development and provides educators worldwide with comprehensive teaching content and software.
In 2021 we created the SoftUni Franchise Program to help entrepreneurs achieve financial success and security and become educational leaders. We provide everything they need to establish, manage, and advertise a programming academy – business advice, industry know-how, and unparallel initial and ongoing support. SoftUni's franchisees in Europe and Asia have already produced impressive results using our educational methodology, teaching materials, and innovative software.
Business Growth Through Talent
SoftUni is in a position to help meet the ever-growing demand for qualified professionals in the IT industry. We connect employers with pre-selected job applicants or organize train-to-hire bootcamps. To further ease the interview process, we also provide an automated tool for testing candidates' technical skills.
Our online or on-site corporate training educates teams in new or niche technologies with pre-made or custom materials. Employees learn from presentations, video tutorials, real-life examples, practical exercises, eBooks, and more. Companies also have the option to hire one of our experienced trainers to provide more practical experience for both online and on-site courses.
SoftUni helps institutions and individual coaches worldwide modernize and expand their offerings. Schools, universities, tech influencers, and entrepreneurs can use our proven methodologies, teaching materials, and software in their scheduled, group, or self-paced programs. We license content for Software Engineering, Digital Marketing, UI, and UX Design. SoftUni also offers innovative practice-orientated K-12 STEM courses and high-school-level curriculums.
If you want to start a career as a programmer, now is the perfect time to begin learning. SoftUni's self-paced Java and JavaScript Developer programs are a result of our years-long experience in helping thousands of people learn to code and find a job in IT. Try now with a 7-day free trial.
If you are looking for comprehensive corporate training or the most efficient way to start or expand an educational business, SoftUni provides the know-how, teaching materials, and software you need. Contact us and learn how to achieve your business and personal goals.