As the international branch of SoftUni – the biggest non-formal tech education provider in South-Eastern Europe, our B2B efforts go towards helping businesses grow through strategic partnerships, talent acquisition and development, and providing comprehensive teaching content and software to educators around the world.
After 9+ years of experience as a regional industry leader, we have developed a tried-and-true scalable business model. To help other companies benefit from it, in 2021 we created the SoftUni Franchise Partnership Program where we provide business advice, industry know-how, and unparalleled support in establishing, managing, and advertising a successful programming academy. Our franchisees in Europe and Asia have already seen impressive results utilizing the educational methodology, teaching materials, and innovative software we license.
Our Efforts are Paying Off
A new validation of our success comes now from Clutch – a ratings and reviews platform that connects companies around the world with the right service providers for their operational goals. We decided to create our vendor profile on the platform because the B2B industry relies heavily on reputation. We intend to use the reviews we get to reinforce our outreach and marketing efforts.
Today we celebrate a big step in realizing that plan because we earned our first 5-star review on the platform.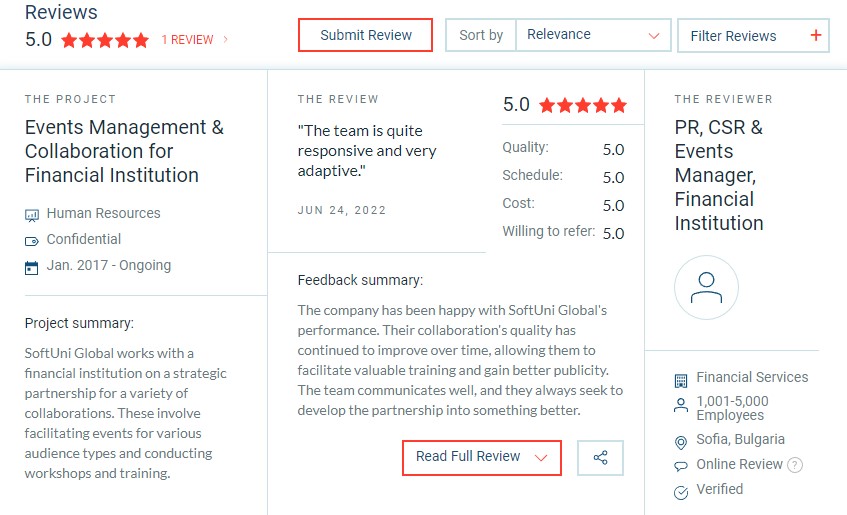 The company we were working with for this particular project was a leading financial institution that needed a reliable vendor to assist them on a long-term basis. They chose our team precisely because of the reputation we have in the IT education industry.
Our main responsibilities included organizing several annual events on behalf of the client. Unfortunately, we can't go into too much detail about the project in itself. Those interested to get more information about it can read the full review on our Clutch profile.
One development we can share is what happened after the publication of this review. Thanks to its positive attention and high score, SoftUni Global is now among the top corporate training companies on The Manifest – another B2B platform that elevates vendors by creating ranked listings of the top performers in each industry.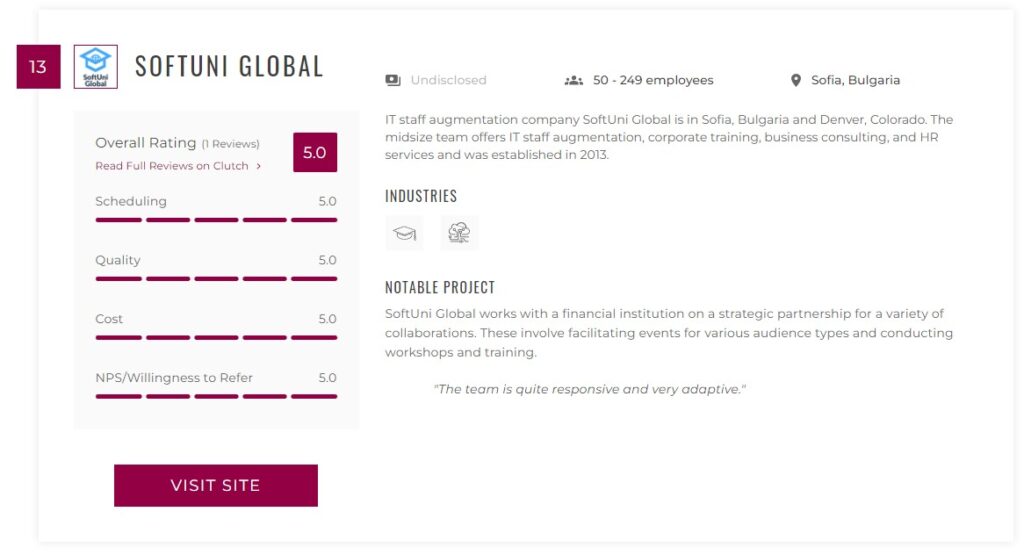 The fact we are considered a leading educational organization by respectable B2B platforms is a big step in the right direction. It will create more opportunities to connect with businesses around the world that can benefit from our expertise.
Learn more about the ways we can positively impact your operations by browsing our franchise, business, or educational services. You can also reach out to our team by email at [email protected] for any questions or inquiries you might have regarding a potential partnership.